National Gallery of Ireland
Located in the heart of Dublin, the National Gallery of Ireland features a famous Irish and European art collection from between the Middle Ages and the twentieth century.
The National Gallery of Ireland, located in Merrion Square, was inaugurated in 1854. Since its art collection grew exponentially, the building was enlarged in 1903, 1968 and 2002.
Exhibitions
The National Gallery of Ireland is an extremely large art museum with fifty-four rooms, where over 16,300 pieces of artwork are shown. The impressive collection is organized geographically, historically and by themes.
The first floor is dedicated to Irish and British artists and their work. It also includes the National Portrait Collection.
The top floor and mezzanine also offer interesting exhibitions by well-known artists such as Picasso, Monet and Titian.    
Some of the greatest artists found in the National Gallery of Ireland are Caravaggio, Rembrandt, Velázquez, Goya or Van Gogh.
An excellent art gallery
Art fans will love the National Gallery of Ireland. If you're not passionate about art, we still recommend visiting the gallery, as it includes numerous masterpieces.
All the exhibitions are arranged in a clear and simple way to understand how Irish and European art has evolved, making this museum extremely worthwhile.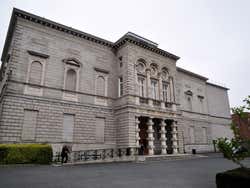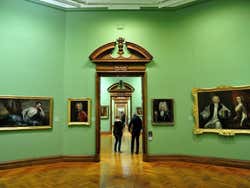 Schedule
Monday- Saturday: 9:15am - 5:30pm.
Thursday: 9:15am - 8:30pm.
Sunday: 11am - 5:30pm. 
Transport
Buses: Merrion Sq., lines 15X, 44, 44B, 44C, 48A, 50X, 65X and 77X.