National Archaeology Museum
Dublin's National Museum of Ireland-Archaeology offers archaeological exhibitions that trace the evolution of Irish civilization from the Mesolithic period to the Middle Ages. 
The National Museum of Ireland-Archaeology, founded in 1890, features centuries-old objects (the earliest dating from 7.000 B.C.) displayed in seven halls.  
The exhibitions
The ground floor of the National Archaeology Museum houses objects from Prehistoric Ireland including weapons and tools made of stone, bronze and steel. The exhibit also features recreations of small farms and some tombs from the Neolithic period.
Visitors will also marvel at several gold objects designed during the Bronze Age, several works of art dating from when the Celts arrived in Ireland, ceramics and glass.
On the first floor, visitors will learn about how the Vikings lived in Ireland after AD 795 and how the country was during the Middle Ages.
The museum also features items from other parts of the world, like an exhibition on Ancient Egypt, with objects that were once used during religious and burial ceremonies. This part of the museum also has mummies.
Interesting and free
Although the exhibits are a little chaotic and difficult to follow, the museum is free to visit, interesting, and another perk is that the building that houses the museum is also splendid.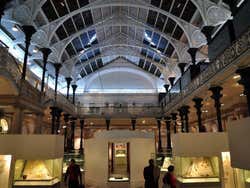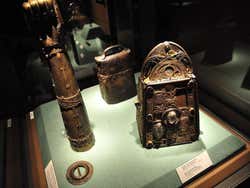 Schedule
Tuesday - Saturday: 10am - 5pm. 
Sunday and Monday: 2pm - 5pm. 
Transport
Buses: Kildare St., lines 7B, 7D, 10, 10A, 11, 11A, 11B, 14, 15, 20B, 25X, 27C, 33X, 39B, 40A, 41X, 46A, 51D, 58C, 70B, 74, 92, 116, 127, 145, 172 and 746.