Famous for its sung Latin masses, St. Mary's Pro-Cathedral, also known as 'Pro', was erected between 1815 and 1825 on the ruins of the Cistercian Abbey of St. Mary.  
Why is it a pro-cathedral?
St. Mary's is a pro-cathedral, meaning that it is transitorily serving as a Catholic cathedral, because when Christ Church Cathedral was built, it was acknowledged as a Catholic cathedral before the reformation period when it was transformed into an Anglican church. 
Since there can only be one cathedral per city, St Mary's can only become a cathedral when the Pope revokes Christ Church's title.
Interior and exterior
The neo-classical construction contrasts greatly with most of Dublin's other parishes, most of which are gothic in style. The exterior has six imposing Doric columns, inspired by Teseo's Temple in Ancient Agora.
The interior is also very different to Dublin's two cathedrals and the rest of churches in Dublin. Its mixture of Greek and Roman styles has awoken a lot of controversy. Some describe it as a architectonic gem and others as a monstrosity.   
A distinctive parish
St Mary's Pro-Cathedral has an extraordinary past splattered with effort and faith. Its importance has never been fully acknowledged and has been discriminated in many occasions. Discovering this temple is truly enlightening.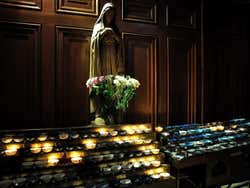 Schedule
Monday to Fridays: 8am - 5pm
Saturdays: 9am - after evening Mass
Sundays: 9am - 1pm and 5pm - after evening Mass