The former Royal Exchange, now converted into the Dublin City Hall, is an excellent example of Georgian architecture. Designed by Thomas Cooley, it was built between 1769 and 1779.  
After the Act of Union, the former Royal Exchange building fell into disuse until it was purchased by the Dublin City Council in 1852.
The building was completely restored and used by the Dublin City Council until 1995. Now, council meetings take place at the City Hall.
Highlights
The Rotunda, a large circular space covered by a dome and held up by twelve columns, is the Dublin City Hall's highlight. The hall is beautifully decorated with numerous statues, some of which were sculpted in 1772.    
The building's basement features a multimedia exhibit that traces the history of Dublin, from before the Anglo-Norman invasion in 1171 to the present day.
The exhibition includes items from different periods, archives and computers with interactive programs.
Is the exhibition worthwhile?
It is worth stepping inside the City Hall's impressive Rotunda (entrance hall) to contemplate this stunning neo-classical building. However, we believe that the exhibition about the history of Dublin is too long and tedious.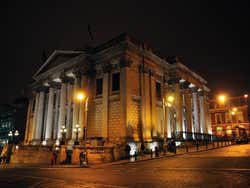 Schedule
Monday - Saturday: 10am - 5:15pm. 
Price
Entry to the City Hall: free 
Exhibitions: prices depend on the season.
Transport
Buses: Parliament St., lines 37, 39, 39A, 39C, 70 and 70A.