The National Wax Museum in Dublin has four stories packed with waxworks representing all types of celebrities. It also includes several interactive attractions.  
What's inside
The Dunblin Wax Museum is divided into various themes. Each room has a sound system that must be activated by visitors when they walk into a room. The following rooms are the highlights of the museum:
Children's fantasy world: In a children's fantasy world all is possible. While you explore this section, you'll bump into Homer and Marge Simpson, Harry Potter and the Sleeping Beauty and other great fictional characters.
The grand hall: The grand hall houses some of Ireland's world-known celebrities including Liam Neeson, U2 and Phil Lynott.
Wax factor studio: Visitors can record themselves in their favorite music video in the museum's studio.
Chambers of Horror: The actors in the Chambers of Horror will make even the bravest visitors scream, as they creep out of nowhere.
Record in wax: Visitors can test their music skills in the recording room, as many legendary Irish musicians once did, like REM and Snow Patrol.
Entertaining
The museum's wax figures aren't very impressive, but the museum is very entertaining. It closes a little later than other museums in Dublin and is in the city centre, making it a great activity for the evening of a cold day.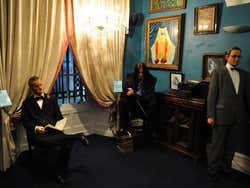 Schedule
Every day from 10 am to 7 pm.
Price
Adults: € 16.50 (US$ 17.50)
Students and seniors over 60 years old: € 14.50 (US$ 15.40)
Children under 12 years old: € 11.50 (US$ 12.20)
Transport
Buses: College Green, lines 50X and 77X.