Previously known as the Archbishop Ryan Park, Merrion Square Park is an oasis of tranquility in the heart of Dublin with beautiful sculptures and other attractions.  
Merrion Square Park is flanked by numerous historic buildings with enormous architectural value. Some of the most important are the National University of Ireland, the National Gallery of Ireland and the branches of Archaeology and Natural History of the National Museum of Ireland.
From a private to a public park
When it was first founded, Merrion Square was a private park for the inhabitants of its neighboring houses. These were wealthy citizens that lived in beautiful Georgian style houses surrounding the green space.
Many relevant Irish figures lived in Merrion Square, including author Oscar Wilde, political leader Daniel O'Connell and writer George William Russell.
In 1930, the Roman Catholic Church purchased the land to establish a cathedral, but the project was never carried out. Thus, in 1974, the archbishop Dermot Ryan relinquished the plot of land to the city of Dublin to convert it into a public park. When the archbishop passed away, the park was dedicated to him and called Archbishop Ryan Park. Years later it was renamed Merrion Square Park when Dermot Ryan was connected to the Murphy Report scandal.
The best areas of the park
On the south-east side of the park lies the remains of an air raid shelter, built to protect 1,100 people.
The park houses abundant sculptures, the most noted being the statue of Oscar Wilde. It is also interesting to see the various types of streetlights that were once used to light the city in the past one hundred years.
Perfect place for a rest
The Merrion Square Park is the ideal place to rest and enjoy a bit of tranquility after a long day of exploring the center of Dublin.  A small ray of sun is enough to attract plentiful children and adults to the green space's well-kept gardens.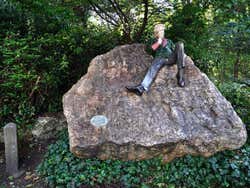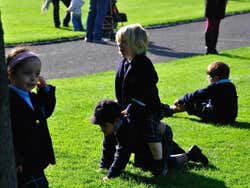 Schedule
During the hours of daylight. 
Transport
Buses: Merrion Sq, lines 4, 5, 7, 7A, 8, 13, 13A, 15X, 45, 49X, 50X, 63, 65X, 77X and 84.