The Garden of Remembrance was inaugurated by the President Eamon de Valera in 1966 to commemorate the 50 years anniversary of the Easter Rising.
Garden of Remembrance is a small park established to commemorate all men and women who died for the cause of Irish freedom.
Representative elements
The bottom of the pond is beautifully decorated with a large mostly green and blue mosaic that represents several broken Viking weapons. In Celtic custom, warriors would break their weapons and throw them into the river or sea when a battle was over to celebrate the newly established peace.
A large bronze sculpture is located at the bottom of the Garden. It symbolizes a scene from "Children of Lir", an Irish legend that symbolizes revival and regeneration.
The most moving monument is a wall with the poem "We Saw a Vision" written on it in English and Irish. It expresses the Irish population's ideals and how they never gave up hope of obtaining their freedom.
A place to remember and reflect
If you wish to learn more about the history of Ireland, the Garden of Remembrance is a small green space seeped in melancholy and hope.
The Garden of Remembrance is not one of Dublin's most popular tourist attractions, but it represents an important part of the country's past, inviting visitors to reflect and to commemorate.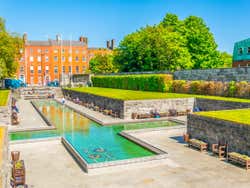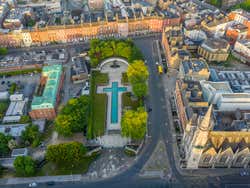 Schedule
April - September: 8:30am - 6pm
October - March: 9:30am - 4pm
Transport
Buses: Parnell Sq. East, lines 1, 2, 14, 16, 19, 33X, 39X, 41X, 48A, 58X, 70B and 70X.