Despite Dublin not having a bike lane, which means that bicycle riders must share the roads with cars and buses, many Dubliners prefer to rent a bike as means of transport to get around the capital.
Curiously, Dublin is one of the capital cities of the world where more bicycles are stolen. For this reason, second-hand bikes and Dublinbikes are extremely popular.
Dublinbikes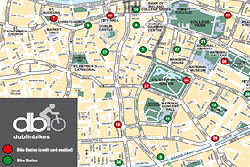 Dublinbikes stations
Dublinbikes is a public bicycle rental scheme distributed throughout the capital, like many other rental programs around the world. The bike stations are located quite close to each other and they all have a station terminal.
Tourists
If you wish to rent a Dublinbike during your stay in the Irish capital, you can purchase a 3 Day Ticket using your credit card in most station terminals. Once you have your ticket, you can hire a Dublinbike as many times and for as long as you wish.
Prices
1-Day Card: € 3.50 (

US$

3.70)
3-Day Card: € 5 (

US$

5.30)
Annual card: € 35 (

US$

37.30)
A guarantee of € 150 (

US$

159.90) is required
First 30 minutes: free
Up to 1 hour: € 0.50 (

US$

0.50)
Up to 2 hours: € 1.50 (

US$

1.60)
Up to 3 hours: € 3.50 (

US$

3.70)
Up to 4 hours: € 6.50 (

US$

6.90)
Every extra 30 minutes: € 2 (

US$

2.10)
Apart from the basic tariff, a service charge applies after the first 30 minutes of your journey that will be charged directly on your credit card.
During the validity of your card you can make as many journeys as you wish, but to optimize costs, we suggest you make short trips.
Opening times
The bike stations run every day from 5 am until 12:30 am (midnight).