Dublinia is an interactive exhibition that invites visitors to go back in time to discover Ireland's capital when it was a Viking settlement and during the Middle Ages.
Dublinia is housed in the charming Synod Hall, a neo-Gothic house designed in 1875 on the ruins of the medieval St. Michael Church.
The exhibitions
You'll be transported to Ireland's past as soon as you walk into this original museum thanks to its life-size recreations with live actors that represent everyday scenes from other periods. Dublinia is divided into three parts: Viking Dublin, Medieval Dublin and an area called "History hunters".
Viking Dublin: Go back to the year 800 and learn how these Norse seafarers lived, walking into their houses, embarking on their boats, trying on their clothes and by becoming a Viking warrior or a poor slave.   
Medieval Dublin: Walk along Dublin's filthy streets, step inside a wealthy merchant's house and check out the local items in a typical medieval market.
History hunters: See how Dublinia's history hunters work hard to uncover the city's past.
At the end of the tour, walk up to the top of the medieval tower (96 steps) that was once part of St. Michael's Church. The views of Dublin are striking!
History and diversion
Dublinia is a very popular tourist attraction that manages to make history interesting for both children and adults. It is well-worth visiting!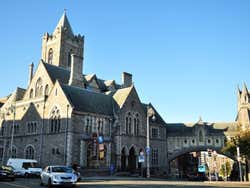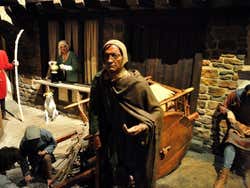 Schedule
March - September: 10am - 6:30pm
October - February: 10am - 5:30pm
Price
Adults: € 15 (US$ 16)
Students and over 60s: € 13.50 (US$ 14.40)
Children: € 7.50 (US$ 8)
Free admission with the Dublin Pass. 
Transport
Buses: Christchurch Place, lines 49X, 50X, 54A and 78A.