Designed by the Scottish architect Sir William Chambers in the 1750s for James Caulfeild, the first Earl of Charlemont, the Casino at Marino is a remarkable neo-classical structure. 
The name "Casino" comes from an eighteenth century Italian word meaning "little house".
Discovering the Casino
Visitors can explore this charming former residence accompanied by a professional English-speaking guide who will unveil the history of the house while walking through the various rooms.
Before the tour, tourists will be handed special shoes to wear as not to harm the delicate wood flooring. Then, the guided tour starts in the kitchen, followed by the lobby, the hall, the bedrooms. In total there are sixteen beautifully decorated rooms to see.
The architect included many ingenious architectural elements throughout the building to simplify the design and make it more functional. Some of the most striking aspects are: the outdoor columns incorporate the piping from the gutters and the urns accommodate the chimneys beautifully.
Architectural masterpiece
The Casino Marino is a remarkable architectural masterpiece well worth visiting. The guided tour is essential to make the most of the visit and learn how the building was conceived.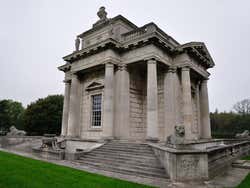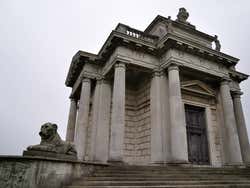 Schedule
Currently closed to the public due to maintenance work.
Transport
Buses: Malahide Rd. (Donnycarney Church), lines 20B, 27, 27B, 27C, 127 and 129.