Decorative Arts & History Museum
The National Museum of Ireland-Decorative Arts & History, also known as Collins Barracks, houses a large collection of objects that allow visitors to discover Ireland's social, economic and military past.
The National Museum of Ireland-Decorative Arts & History is housed in the Collins Barracks, a striking neo-classical building completed in 1704, a former army barracks.  
The exhibitions
Visitors will find exploring this museum very pleasant, as it is divided into different themes. The three floors of the south side of the building houses an important Irish silverware collection. It also has numerous Irish antiques, various objects made of wood and scientific instruments.
The west square reflects Ireland's cultural history through various types of material. There is also an exhibition that reveals the history of Collins Barracks, a 200-year army base. One of the most popular exhibits is called "How we used to dress". It shows what the citizens of Ireland used to wear between the eighteenth and twentieth century.  
Probably one of the highlights of Collins Barrack is the "Soldiers and Chiefs" exhibition. It explores Ireland's military life since 1550 up to the twenty-first century, through the eyes of a soldier.
If you have enough time
Even though Collins Barracks is far from the city center, the exhibitions are worth visiting and the building is also very special.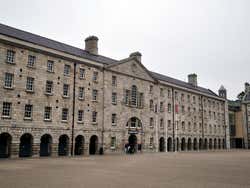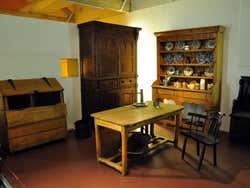 Schedule
Tuesday - Saturday: 10am - 5pm
Sunday: 2pm - 5pm
Closed Mondays