Ireland Natural History Museum
The National Museum of Ireland - Natural History, also known as the Dead Zoo by Dubliners, houses a large collection of animals.
The Natural History branch of the National Museum of Ireland is practically the same as it was when it opened to the public in 1856. It was slightly reformed in the early twenty-first century and reopened in 2010, after a stairway collapsed.
The exhibitions
Ireland's fauna is exposed on the first floor. Visitors will find all types of birds, molluscs like octopus, and insects. The highlight of the museum are the numerous extinct animals, for example the Irish elk, also known as the giant deer.  
The first floor is dedicated to animals from overseas, including American bison, monkeys, deer, giraffes, bats and other stuffed animals. Two enormous whale skeletons are also suspended from the ceiling. 
Not too interesting
The National Museum of Ireland - Natural History is not very interesting for tourists. Its collection offers the same animals that are on display in most Natural History museums around the world.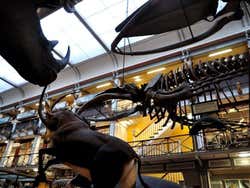 Schedule
Tuesday - Saturday: 10am - 5 pm
Sunday: 2pm - 5pm
Mondays closed
Transport
Buses: Kildare St., lines 7B, 7D, 10, 10A, 11, 11A, 11B, 14, 15, 20B, 25X, 27C, 33X, 39B, 40A, 41X, 46A, 51D, 58C, 70B, 74, 92, 116, 127, 145, 172 and 746.