Jameson Distillery Bow St
The Old Jameson Distillery, also known as Jameson Distillery Bow St, was founded by John Jameson in 1780. For nearly 200 years, it is where the company distilled its whiskey. It is now a popular tourist attraction.
Currently, the small distillery on Bow Street has been transformed into a visitor's center that reveals the making process of one of Ireland's most famous whiskey brands.
History of whiskey
The tour starts off with an introductory video, followed by a guided tour of the installations, where you'll learn about the making of this uniquely blended whiskey. A guide will walk you through the various areas where the barley and grain are malted, then mashed, fermented, distilled and matured.
When you've learnt the whiskey process making, you'll finish the guided tour with a whiskey tasting. If you're a big fan, you can taste various whiskeys and compare them to Jameson whiskey. Otherwise, you can have a whiskey tasting accompanied by Coca-Cola or with cranberry juice.
For those who love whiskey
The Old Jameson Distillery offers interesting information on the whiskey making process and its history. However, if you're not keen on the topic, you might prefer to visit any other of Dublin's numerous tourist attractions.
In our opinion, the entrance ticket is slightly expensive if you don't have the Dublin Pass. Moreover, we preferred visiting Guinness Storehouse.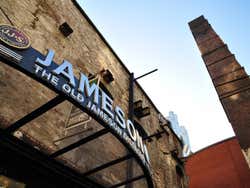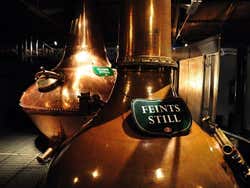 Schedule
Monday-Thursday and Sunday: 10am - 5:30pm (last tour). 
Friday and Saturday: 10am - 7pm (last tour)
Price
Adults: between € 25 (US$ 26.90)
Students: € 19 (US$ 20.40)
Free entry with the Dublin Pass. 
Transport
Tram: Smithfield, Red line.
Buses: Arran Quay, lines 39 and 39A; Christian Youth Church, lines 37, 39B, 39C, 70 and 70A.